Beware Britt World Wide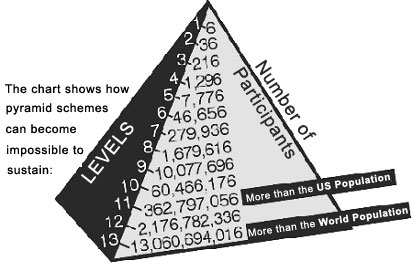 In the last week I have had two run-ins with "business men" "building teams" for "internet sales." The first was a couple that noticed my Oregon plates outside of HEB, introduced themselves and after some friendly discussion about 'ol Corvallis they wanted to select me for their team. Yea!
After a couple of minutes he wouldn't shut up and I am not a rude guy so I gave him my email and darted.
The next day I got this email:
...I enjoyed meeting you. You seem like a very confident person and someone that might fit well on the team we are putting together. Listen, I can't promise you anything but if you are truly interested in making some additional income we should talk. We need to get together for about 15min so we can get to know each other better and I can give you an overview of what we are doing. I have some time in my schedule Thursday late after noon or Friday. Which is better for you?...
Uh huh, uh huh. Oh gee, wowie, that sounds great, a team, money and a business plan that is so complex that it must be explained in 15 minutes, instead of in the email...
So I did some research on his email address and turned up bww.com. And the website is as non-descript as the email: "Empowering people around the world". They didn't even bother to put what BWW stands for anywhere on the page.
Something was up and after some Googling I discovered Britt World Wide AKA Amway + Internets AKA Free Business Training at Hotel Near the Airport AKA Pyramid Scheme.
Here are some links about the business:
Summary: BWW should be avoided.
Today I was attacked by another BWW person while drinking my iced tea and reading up on TCL/TK. But armed with the information on BWW I was able to quickly hush him and get back to my reading.
So why am I posting this? Because non of these resources link to bww.com, so using google for link:bww.com returns no results. At least until my site gets crawled :-)
As a side note everyone in Austin is extremely friendly and these few brain washed creeps by no means represents the whole of the ATX.
In other news don't lay on metal that has been sitting out in the direct 100 degree sunlight. You will burn your back... badly!
69 Archived Comments Comments are closed
omar Posted 7/19/2006 at 9:59 pm

sweet, i'm a resource! : ) glad i could provide some useful information.

I'm in Orange County these days, but I was approached by a guy from "the biz" when i was living in Austin - at Metro Cafe, across from the University of Texas.

Enjoy Austin though!

Ryan Miglavs Posted 7/21/2006 at 9:11 am

Hey, a pyramid scheme is pretty cool if you get in right at the start! Those people below you will have to find a way to deal with that little "population of the world" thing, so that's their problem.

So, um, would you like to get in on an exciting opportunity to make huge cash on the side with an innovative online rubber knife subscription company?

Sham Posted 7/31/2006 at 11:37 am

Hey,

Iam in California. When I was in a shopping mall, A guy approched me and told .. that I was so familier to him… then we were talking for 5 min.. Finally he gave his card .. and he invited to the meeting at his home.

Its all about BWW.

:)

Ron Jackson Posted 8/1/2006 at 2:00 pm

I had an opportunity to get in on a pyramid scheme in the 80's. They didn't bother with products, went right to the funneling of money up the pyramid.

It worked something like this: A person would be the "pilot" of the "airplane". They get a "copilot". Then they enlist the "passengers", each of whom pays $1K to the pilot. The cycle repeats with the passengers moving up to copilot, copilot moving up to pilot, and a new crop of "passengers".

Sound pretty lame? A massage technician I knew had lots of contacts through her practice and personal development seminars and managed to fill a number of "flights". She then skipped the country. I heard she was living in Bali.

Hard to imagine falling for a scheme like that… but then some people are both greedy and not good with math.

SP Posted 8/29/2006 at 5:02 pm

Yup. Someone contacted me about running my own business and generating $1000s dollars/month on the side. She told me that they are recruiting sharp and ambitious people for their business.

I looked at the bww site- nothing up there interesting.

Immediately bells were ringing about Amway (quixstar).

Notice how bww distributors use cookie cutter messaging like "sharp and ambitious".

thx. sp

johnny Posted 11/15/2006 at 7:52 am

what about learn to trade go and see how many people are scapegoats at this seminar after asking so many questions the guy trying to sell the product said we not good to buy the product so we told him his not good for our money.

thebowerbird Posted 12/16/2006 at 8:12 pm

I had one of these guys approach me recently, seemed really nice (then don't they all when personal interest is involved), but I instantly recognized it as a pyramid. These things are bastardly, and I am inclined to the believe that people involved are either naive or evil themselves.

Soody Posted 12/21/2006 at 1:37 am

When I was in loo last week , a guy peeped in, did not allow me to wash my hands and took it and shook it before I could clean. Told me that he had met me some where and started fishing. We exchanged cards as we spoke. Looked like a smart one. SOmething told me that he will call and he did call the next day and followed up with a statement that there is an opportunity for Young and open minded people like me. AAAAhhhhh~~~~!!!!!. Then he told me about BWW and I learnt quite a good deal from these articles.

All of these guys are cheats around us. Be ware. Work is worship. Do not join these pyramid schemes and get sc****ed.

Bye Soody

Finster Posted 1/3/2007 at 10:19 pm

Thank heaven for this post. I met a young college alum of mine at a sports bar while watching our team play its arch rival, and he called me a week later using nearly all of the buzz words that appear in the email above. Of course, he refused to tell me what he wanted to talk about over the phone, and insisted on a short meeting in person. I have since Googled the guy, and he's a ghost, nowhere to be found, which is odd for a guy who helps companies build their Web presence, don't you think?

So thank you for posting this. I now know exactly where to tell this guy to stick his pyramid, sideways.

alex Posted 1/12/2007 at 10:06 pm

Hey Guys I was approached by a guy I signed up and now am earning prettu god money. This Internet is a bathroom wall anyone can come and write anything. Any Motherfucker finister, soody, johnny, joe can come and write their experience about being approcahed but this is mine. IT IS FUN MAKING MONEY. Hope to see you guys in one of the office working your butts off to get someone else rich. Working under someone else that pet is called a DOG.avk_19@hotmail.com

Vic Posted 1/16/2007 at 7:07 am

My story: met a woman at a grocery store! She was like:" Wow, do you like this crackers?" Then she asked me about my background. I said I am working on my MBA and she said she has a great opportunity for me! Then she called me and arranged a meeting with her husband at a coffee shop. Very pleasant people, but I had a feeling right away that it is not for me. The only thing that pissed me off that I wasted half an hour talking to them instead of studying. They invited me to the "house meeting with a very important leader", I was very skeptical right away! I would never go to some stranger's house. Business should be in business environment. Thanks to this site to reaffirm my thoughts.

Bryant Hampton Posted 1/20/2007 at 11:34 am

Being a former Amway consultant I can truly understand many people's concerns. However, while I was not very succesful in amway as a business, I did learn alot about relationships with people and God. These people are the most caring and honest people you will ever meet. Check it out. Don't let the opinions of others ruin your future. I have personally seen many people become succesful in Amway. The ones with the gift of gab are usually the most success.

A. E. Posted 2/7/2007 at 2:30 pm

Thank you for posting this blog. I too was approached and declined from this. In response to mr. Hampton's comments, I am glad that he has lerned a lot about people and god from his own personal experience. However, like he said, the ones whom become very sucessful in this type of "work" have a gift a gab…I wonder why. This again, like so many others are "Network Marketing" scams which makes you "market" in your own "network". I find that this is a waste of time and effort since you will always be remebered as the one trying to get someone to join your group which forever tarnishes your repuation in business.

A. E. Posted 2/7/2007 at 2:32 pm

Plus, if it was a real business, none of the required information would be an initial secret.

A.Seq Posted 2/11/2007 at 11:25 pm

I was also just contacted about joining britt world wide. it concerned me coz I asked the person if I could just sign up without going to the seminars or buying the tapes….and they said "we prefer that you do join". makes me wonder if they are more interested in making money through the learning material. Have any of you ever evaluated whether the products save you money. Irrespective of whetehr you make money selling to others are the discounts you get worth it.

Thaddeus Wilson Posted 3/8/2007 at 8:55 pm

The above blogs, WOW, you guys are really oozing with intelligence. Oh boy, the things you people dream up. I could school everyone here and not miss a beat. It reminds me of the monkeys you have seen at the zoo or on TV, where they swing around and make a lot of noise. Thats what most of the previous blogs amount to, lots of noise and no intelligence. For the record, BWW is no secret. Anyone checking out the oppurtunity that is offered through BWW will find that it is perfectly legitimate. When was the last time someone thought enough of you to offer you a business oppurtunity?! Pyramids, pyramids, so much chat about pyramids! Heres the low down on pyramids, everything in the universe is a pyramid! So, for all the monkeys who think that people who own a pyramid business, traditional or non-traditional, are evil mo-fos, here is a tip for all you mental midgets out there. Flee your jobs right now or else you will continue to be guilty of aiding and abetting these evil mo-fos in their evil quest to provide an honest future for their families! Just know, I am an evil conservative who oppresses his fellow man by teaching them about free enterprise. So beware, I am laying in wait for you;}

magnus olsson Posted 3/15/2007 at 11:20 am

You should get a job. All Corporations are forming their structure the same way btw. Improve your theoretical math skills,because then you would find out that not everyone gets involved and that this business type is actually desaturating….meaning that the number of people in the business compared to not in the business is decreasing daily.

So, go visit the pyramids in Egypt

Magnus

Pravin Thakur Posted 3/17/2007 at 12:29 pm

I am a little confused; and would like to know the answer to two simple questions:

[1] What exactly dows BWW sell or involve selling? Is it a product, service or both?

[2] If BWW is so great, then why do the BWW agents try soooooo hard to sell?

Thank you in advance for your comments!

Raymond Posted 4/16/2007 at 6:31 pm

BWW sells what are known as Business Support Materials (BSM) consisting of CD's, books, and tickets for seminars held 4 times in a year. There are other organizations selling similar things besides BWW that use Quixtar as suppliers.

Deepak Kumar Vasudevan Posted 5/22/2007 at 7:28 am

BWW and the Pyramid Scam (!) seems to be destroying good friendly relationships. It makes you to drive every friend and relationship, despite the fact that you meet after long time to turn into business potential corners.

I was glad to meet an old friend in Missouri, US. But her husband seems to be affected with this BWW fever. Now he and his colleague are daily calling me and emailing me regarding BWW Business Potential. I did send him a very casual, friendly reply to him asking for clarifications, what actually the BWW business is all about. They keep saying business, business but till finally, they don't say what exactly they are trying to give as a business to the visitor.

Is this someway related to Amway in India? Amway got caught in a lot of scam including its top leaders involved in some way to Sivakasi Jayalakshmi Police Scam case.

Hope at least weblogs like these highlight people and save them from the menace of such bad marketing which destroys relationship by showing money and greed to them.

Shar Posted 6/1/2007 at 4:17 pm

Almost same experience here. I'm new into US and suddenly found these MLM vultures prying around shopping malls, identifying soft targets. I have to agree, after reading so many motivational material and watching DVDs, they get smart into sniffing an newbie. Same formula is applied by everybody:

You look familiar. Have we met?
Which place you are from? OH! I from same city. AHA!!!

Exchange contact info and then they call you first, just to make you comfortable, like a good friend. In 2nd or 3rd call, they want to tell you about the business/opportunity/great-team/**** all crp. If you try to say no politely, they won't take it. If you clearly say it, they still will not take it and it comes to the point where you have be blunt and rude.

a****les

To top it up, One of my relative approached me with "business opportunity". Sending off his friend(aka business partner)to contact me. Apparently, the smarta was in IT and earning $150K plus BWW. I insisted about knowing more about the business and was sent a mail of invite suggesting "business attire/Tie" horsesht Figured out hyperlinks in the mail and started the search on net about bww. The website is ONLY for IBOs. Found some good posts like this. Thanks a lot.

I still wonder, are these people blind? what is this system, that motivates them to work so hard to seek new members. Amazing brain-washing.

trini concern Posted 6/15/2007 at 1:09 pm

we are contemplating weather to get involve in this "exciting" business or not. but after reveiwing these comments we are all left confused. my family memebers and i had several meetings with the representatives of trinidad. when mr Pooran Benny spoke to us we were pretty much convinced to join this bandwagon.we had our money in place an it was just for us to only register but after a couple of questions i hestitated and now i am reading this and it have my family an i very confused. making the situation worst is that the information and catalogue are not readily available until your $2890.00TT is paid. how do i know that this is real.i am young an investing my life savings into this could be beneficial also a rip of. what am i supposed to do now?if anyone has info. please reply on this same site. thank you

Kamara Posted 6/21/2007 at 1:28 pm

WOW. I totally understand these sentiments…I have studied MLM and pyramids and can offer some clarification. Pyramid schemes have high start up costs and you only earn money for recruiting people…The Feds are always shutting those down. However, there are legitimate MLM opportunities that are POORLY MARKETED by 95% of the people. The stupidest thing people ever tell you when you join is to make a list of EVERYONE YOU KNOW. How the hell can you sell the same thing to EVERYONE YOU KNOW…We have different personalities and when you hear the high figures of people failing in these ventures, it's because of their "training". When a company has products at very high prices, they KNOW that no one will buy so they offer you it at cheaper price if you JOIN. That puts people under pressure to SELL SELL SELL to everyone they meet so it's not totally their fault that they're so obnoxious.Let me say though, that you can join a company that has products that people would buy IF THERE WERE NO OPPORTUNITY ATTACHED TO IT. I was with one of these companies that offered "wholesale price" as they call it and got screwed…it's pretty dumb recruiting EVERYONE ON THIS LIST THAT YOU MAKE. If you sell vacuum cleaners, make sure that your prospects already have carpet BEFORE you go spitting in their faces. I studied this industry carefully then joined a company where they sell all the products at the same price whether you join or not…I do NOT have to bombard anyone at the mall and make lousy promises to them. I can just find where I can satisfy a need and do it. If I meet people who ALREADY BELIEVE IN MLM, then I share with them about business, otherwise I don't twist people's hands to join me…THAT'S STUPID. For those of you who have had bad experiences with MLMs, there's a book that outlines EXACTLY how and why so many people fail in MLM…You can download it at http://www.sponsorlikethepros.com and it's FREE. For the rest of you, please do your research before you brand ALL MLMs as scams…There are bad people in school yet we still send our kids there. Bad people in church yet we still go there. Bad people in the police force yet we still believe and trust in them. Bad people in politics yet we still vote for them… There are bad people in MLM but that does NOT mean that MLM is bad…it's just presented in bad ways by excited and overhyped people. It's totally legitimate. I'm sure most of you readers have used Avon products…did you know that Avon is one of the oldest MLM companies in the world? I rest my case.

Satya Narayan Das Posted 6/27/2007 at 10:31 pm

Dear Guys, I have gone through many of your messeges. I have only to say that, its a common sense to work upto 60 years or work for 2 to 5 years and enjoy rest of the life. basically, if you study this amway business throughly, you will find, like others, its a business which has a purchase, sale, profit, loss and organisation. Its the best business opportunity in this world so far. It does not matter what your opinion is. denying to truth does not make it less true. BWW people are truly dreamers and you guys also should be. why not. donot you dream of giving a good carrer to your child, getting good marrige, travelling to a nice place??. what is harm in dreaming big if others have achieved and proven it through this business??. and truly a man who does not have deam is a dead one. Guys, if you comment that its scheme, pyramid, you will keep on saying those words and we will go on making money. ITS TIME TO DECIDE - EITHER YOU TAKE RESPONSIBILITY OF YOUR LIFE A A MASTER OF YOUR OWN LIFE OR TAKE ORDERS AS A EMPLOYEE. CHOICE IS YOURS. GOOD BYE

Jertasha Posted 7/14/2007 at 2:28 pm

I was approached by a guy who also offered this business opportunity to my husband and i. But i must ask those who believe that bww is this "best thing in the world": how much money do you really have to put out and invest before you start making real money? is it that you will continue to get a check for a little bit of money for six months straight until "things look up"? my next question is, if you are not the type of person who enjoys bothering, harassing and begging people to join, could you ever be successful at this business?and finally, why is it that these bww fanatics do not fully explain what products they sell, and what the business entails?They keep on telling us they would explain at another meeting, and every meeting we are even more lost and confused.

Paul Posted 7/19/2007 at 7:47 pm

Ha, im glad i found this.

I was approached in a chapters/indigo bookstore in Yorkdale mall (Toronto, Ontario, Canada) .. i was reading through some linux books, and was approached buy a gentleman name Manu.. he was kind enough to me, talked about computer for a bit, then insisted on taking my contact info because of some business ventures.. so to get hte guy off my back, i gave him my cell number.. and he gave me his card, i didnt eve nthink about it. Sure enough, 2 days later, he called me about his "business proposition" , i didnt answer the phone, he left a message, and never called back again.

Here i am , 2 months later, i saw his card, and i knew something was up, so i started searching around on bww.com .. but on his card, it says "Birla World Wide" ..

anyways, its the same thing. Scammers.

porames Posted 9/5/2007 at 3:18 am

well… I'm working as ABO(AMWAY BUSINESS OWNER) in Thailand.I'm 21 yeards old. I appreciate with Mr.Kamara (comment 23) The MLM doesn't like the pyramid as he said… I feel so good that …the team(which you work with them)will teach you to know how to be the LEADERSHIP. They teach people to be more believe in themselves. Besides, they teach people to be the giver first!! I hope all your guys have a good attitude for this business….in yours country… good luck for all.

Paoboi Posted 10/11/2007 at 3:17 am

Hi there, can you please tell me "what do you really mean by pyramid scheme"? In my opinion the pyramid has a great foundation construction in the history.Listen carefully,I am an IBO(Independant Business Owner)too, when some one give attention to the products it's O.K, but Amway or whatever mlm company… when they give special attention sponsoring people and selling their business opportunity is their first priority,they automatically turn their business into a "pyramid scheme" it's that simple.

raj Posted 10/30/2007 at 7:41 am

Hey, the web master is such a bastard. he deletes all the messages he dont like. u son of a bitch if u delete people wont know the truth. u bastard. leave the messages. if u delete them then wats the real purpose ein putting a blog like this.

bastard.

any questions, mail me at : thebigshow_001@yahoo.co.in

Brandon Philips Posted 10/30/2007 at 7:53 am

Hello Raj-

I got hammered by blog spam yesterday and deleted 100+ spam comments by hand. You may notice that I have a captcha system now…

So, if some legitimate posts got lost, I am sorry.

Also, I would expect better behaviour and language from someone with a University IP address 8-)

Cheers,

Brandon

rajesh Posted 11/8/2007 at 2:51 pm

hey i dont mean to hurt or scold the admin. but i want the people to know the truth. sorry abt the mess created. thanks. u can remove my message if needed.

Karthik Posted 11/17/2007 at 7:29 pm

hello folks,

I am new to this Pyramid Business, but I understood that it selling products through forming a network. In fact I was approached by my dearest friend 2 days back joining BWW/Quixtar. I read the whole blogs till the end. I am still not very clear if I can take this opportunity or not or is it legal for a person who is working in US on L1 visa. I was convinced that it is legal to do this business.

But I do understand after reading all your true opinions that this is not something that everyone can do.

esplly.. points like made me to think are as follows:

You should have ability to approach friends and people to form a network under you.

Choosing the right MLM company (is not an easy task…)
Why this business is so unclear even after several years

Everyone will want a better life and better survival and same applies to me as well. I would like to hear your humble opinion on this before I take up this.

Thanks so much, Karthik

Derek Chassion Posted 11/21/2007 at 11:40 pm

People!!! Wake up!!

To start off with, who ever is reading this, ask yourself something: How come these 34 people display their names, but the person who started this website didn't display his? The answer is simple: HE or SHE IS SCARED!!! And, that makes this website just as bad as writing on the bathroom wall!!!

On the other hand, I'm not. My name is Derek Chassion. I am 18 years old and have been apart of the BWW team for 2 years now. BWW stands for Britt World Wide (the person who started this website can't even figure that much out if he is such a smart person). For the people who know a little bit about all of this, BWW is an education support system that is used by Quixtar IBO's. If you go to the website listed below, you will be able to find out some more background information. Quixtar was launched in 1999. It is the 2nd largest computer main-frame in the world!! The largest, is for the Pentagon. It cost $100 Million to launch, and it was paid off that very same day. That means they owe money to NOBODY!! Here's a hint: That's why IBO's (Independent Business Owners) make money!! The way the Quixtar IBO's make money is based off a PERFORMANCE BONUS BRACKET!! The key word here is PERFORMANCE!! You have to perform to make money. Another hint: the reason why people start websites like this one, is because they did not PERFORM!! If you believe that this is some get-rich quick scheme, or a pyramid, then you are WRONG!! There a many people who make more money than the person on top in this business opportunity. Hey, person who started this website, I hope you read this: at the top of the page you wanted to know why you had to sit down with someone for 15 minutes or so, maybe that's because they wanted to see if you are as sharp as they thought you were…..ever thought about that? I'm not here to bagger people, but people don't know what they don't know. And people can just be flat out stupid and Goggle everything. Here's a nugget for you, I bet you never Goggled your job!! If you have, I'm sorry, but something is wrong with you. Come on people, get some common sense!! Hey, news flash, the Social Security Administration says that 98% of Americans fail at the 45-year plan. What's the 45-year plan? That's when you get of high school or college and work until the age of 65-72 and HOPE to retire. Do you know what retired is? That is when you can do what you want, when you want, where you want to do it, with whomever you want to do it with, however you want to do it. For the broke-minded people in this world, that means you don't have to go get a part time job at Wal-Mart just to pay the bills!! If anyone who reads this has any comments to this then send me a message on myspace because I don't just give out my e-mail address. My myspace URL is: http://www.myspace.com/chassion You can talk to me on there.

Oh and remember just a few things:

You can make money, or you can make excuses. But you can't do both!!
If you want broke advice, listen to broke people. If you want wealthy advice, listen to wealthy people.
The difference between being rich and wealthy, is that when you're rich, you have NO TIME!!

http://www.bww.com/Common/BWWFacts.aspx

Enjoy, Derek Chassion

Brandon Philips Posted 11/23/2007 at 9:12 pm

Hello-

To start off with, who ever is reading this, ask yourself something: How come these 34 people display their names, but the person who started this website didn't display his?

Just to be clear, the authors name is at top of every page: Brandon Philips.

Cheers,

Brandon

Adam Posted 1/5/2008 at 5:41 am

Guys, come on…. Do you EVEN KNOW WHAT A PYRAMID SCHEME IS??! BWW and AMWAY ARE legitimate businesses. Both have been verified by the Better Business Bureau, the American Chamber of Commerce and the Tax department. So if your best friend Larry or some anonymous nut on the Internet writes otherwise, ask yourself if they are better qualified than the aformentioned institutions to make a judgment on the legitimacy of such an enterprise.

Think about it, why would big companies like Microsoft, Mitsubishi, Disney, Coke etc. all have business relations with the Amway corporation if it was illegal?

Since Amway has been around for 50 years, don't you think that if it was illegal the authorities would have shut it down by now?

If it was illegal, why would all of your uplines invite you into their homes so that you know their families? Why are there 3.5 million Independent Business Owners in the world? Do you think the all got fooled (even though many of them are qualified professionals with degrees)?!

Why would I even bother to write this if I did not believe whole heartedly in the validity and worth of this business?

At the end of the day, there will always be skeptics, but the proof is in the success of the organisation. If you do the work, you will help other people and in doing so, succeed yourself. If you are lazy and are NOT willing to educate yourself in how to understand finances, people skills, interpersonal communication etc. then you will fail. It's like anything in life, you get out what you put in.

I personally have found that this business and the system that BWW have provided has been life changing. It's the best thing I have EVER done and I am thankful everyday that I was open minded enough to investigate this opportunity properly. If you are looking at this business for the first time and want to know more… ask someone who has actually succeeded, rather than asking someone who has been a failure. After all, who do you think is qualified to give you the best answers?

God bless, Adam.

Nipun Patel MD Posted 1/16/2008 at 3:51 pm

Derek Chassion - First of all u r a lodo.. it's not goggle - it's GOOGLE.. I know that this is a biggest scam.. This is a perfect way to make great great enemies.. And yes, a good friend of mine got lured into this business when I was in college.. HE was determined, and used to goto every meeting, but never tell me what this 'business meeting' is all about. after about 1 year into the 'business' he came to me and tried to sponsor me….I said no, then again and again and again until I got fed up and screamed once and for all… Even though i didnt like this scam, I was always wishing the best for him… 7 - 8 years after - I see the guy… SAME position as he was before EXCEPT - With lotta enemies, I myself dodged from that fool… I was also approached by another man about this 'business opportunity' - it turned out that the scam was AMWAY. Pravin and Madhu Chheda are the people who tried to recruit me to buy this 300.00 business kit and some tapes and books and all the garbage.. I am actually wondering what them two mofo's are doing. I am hoping that they are reading and hopefully reply.

I also heard the CD from Meena and Shashi Narayan of the BWW - Who are these a*** holes trying to fool.. These two people needs some SERIOUS SERIOUS speaking skills.. I mean come on now - IF you will be marketing this business, at least make it seem like people are convinced !!! BAD BAD grammar usage as well as lotta uhhh ahhhh uuhhhh aahhhhh …. Meena /Shashi - Please if you read this blog - pLease respond and tell us that how much $ are you making per annum. And If a helicopter landed at your work parking lot and if your wife and son got out and told your boss "there is a free man in this place, you need to let him go" Or if you have burned the cubicle and you came out with a marker (RAMBO STYLE) and on a big paper instead of THE END it says "LIFE BEGINS"… Thanks. Nipun Patel MD. NJ

Anonymous Posted 1/19/2008 at 9:56 am

I was also approached by a guy in a book store. He came to me saying that my shirt was very nice, and then asked me about my job, name, etc. Then he asked my contactnumber and called up after two days and told me about this BWW!

IBO Posted 2/7/2008 at 8:01 am

Nipun Patel what is your real name?

if u have some guts, come tuesday to a mtg in woodbridge, to see the Chhedas for yourself

you can curse at people on websites, how about doing it for real

George Posted 3/25/2008 at 9:36 pm

Hello, Nice to read the comments. Let me just put a small example. If you want to learn how to swim, you have to go to a swimming pool.If you sit at the pool side you will not learn . you have to get yourself wet. Then you need a coach to help you to learn to swim. Some of the comments above are from people who are sitting at the pool side and learning to swim. I am an AMWAY distributor and i know how to swim in it. It is one of the most well known business oppurtunities and also the most misunderstood. It is a peoples business and many a person has their own style of doing it. IT is very sucessful and trust me it is not a pyramid. THe guy below you can make more moeny and free time than the one above. Also This is a business that you can start at a low investiment and there is no risk. reg george

Lerma Posted 4/15/2008 at 7:16 pm

There is a saying, "an empty vessel makes the loudest noise." That's what I think of all those who talk down on BWW/Quixtar/Amway IBOs. I do not blame you if you are empty and make such loud noise. What I can blame you is that you never took the opportunity to be filled. For the others who are not empty headed, may God bless your endeavors. Pyramid? What's wrong about that? Dont you have Pyramid structure at your JOB(Journey Of the Broke)? Your boss will never come to the point of teaching you all that he knows to be successful for fear of you taking over his position. Sure there is always somebody of a higher position than you. Is that not a pyramid? Well, this BWW/Quixtar free enterprise, it is people helping people believing of TEAMwork (Together Everyone Achieves More). and believe me, every IBO gets mentored by whoever has already been successful. If at one time you had the opportunity to be in this business and you did not succeed, it is not that the business does not work, but that you most likely did not work the business. I'm sure you've heard of this other saying, "Quiters never win, and Winners never quit." This BWW/Quixtar/Amway business is very much legal, legitimate, and solid. Our exclusive products that we market are quality products, no wonder the company allows money back guarantee. There's so much opportunity for anyone looking to be successful in this business. Those who do not know will always make the loudest noise of negativism. But for those who are serious in building a big business, do not let anyone steal you dreams. Be around more positive people, who have big dreams in improving their lot in this world and in return helping improve the lot of other people. God bless you, and remember, Think and Dream BIG! –Lerma

Oscar Posted 4/16/2008 at 2:36 pm

Thank you for posting this! You might have saved my whole economy!

Anonymous Posted 4/20/2008 at 10:00 pm

I attended a BWW function over the weekend. There was thousands of people at the event. I noticed they do nothing but brainwash naive people and get them sucked into this business. They make it sound so easy to become rich and free. If it was so easy, why wouldn't everybody do this business? They kept calling people with real jobs "SLAVES" . Please be careful. This business is like winning the lottery. There are millions of registered IBO's in this business but only a small percentage is successful.

Bryant Hampton Posted 4/26/2008 at 6:34 pm

Bill Britt is a brilliant man, He truely wants to help people, This man is extremely wealthy and does not need to work, but he chooses to anyway to help other people, the is the American way and the way god intended it. Do not confuse your jealousy as corroption ( i am a terrible speller) for many have tried and failed, but, many have been successful. This business is not right for everyone, but for the cost of getting started it has one of the biggest possible returns. I am no longer with quixtar, formely amway, because it was not the correct vehicle for me, but, that doesn't mean it is not right for you. Good luck and remember if you stay in your comfort zone you will never be anything, try and fail but keep trying till you find the right vehicle for you. I have not been involved with amway for 10 years now so if Bill Britt is dead change all my is's to was. Also, remember that he duplicated himself in his teams so they have the same morals and work ethics as him.

Bryant Hampton Posted 4/26/2008 at 6:54 pm

Lerma How much money have you spent on tapes, books, retreats, meatings, and that up. Be careful as to not put more money in then your getting out. Amway is a publishing company that makes it money off of the books, tapes, and propaganda you purchase. Do the math with me 2 tapes a week 10.00 one book a week 5.00 weekly meating 5.00 FED 300.00 plus so 20.00 per week 80.00 per month fed is quartaly so 1200.00 per year plus the 80 x 12 is 960.00 added togoether 2160.00 times 1000 ibos 2,160,000 and they have noy even purchased one product. Be careful, leagel yes, addictive yes, it is almost like gambling you keep putting money in hoping praying that it will work truth is if you didn't get in in the 60-70 forget it. You may have a good month and hit direct but only a few go hire than that. Take your 1200.00 per month and put it in an IRA and you will be alot, happier with your return.

Antony Posted 5/2/2008 at 6:17 am

The business is highly over rate, as is the product.Over pricing is another problem of the product and does not save money.This business has been very unprofitable, and undesirable by the multitudes. I advise to look elsewhere for a business.I can simply attribute this business to little more than the Mafia.

coolio Posted 7/19/2008 at 11:43 am

I have been approached by a quixstar couple in walmart and they talked so pleasantly and warmly that me and wife got trapped, they talked for a couple of days and invited us for a meeting telling that its a great business deal and we can make 3000-4000 per month, I dint know the trap and went there but dint believe them and rejected their offer pleasantly. Fuck man no call nor visit from the very next day, damn these amway and quikstar people are real bastards, they wanna cheat you and ditch you silently. Its very unfair and ridiculous. They should be punished for this, and the gov shd ban these kin off fkin marketing companies. Why cant you guys enjoy with your hard work, and trust on your self and trouble other people with your cheap tricks. Please wake up people.

Rahul Posted 7/19/2008 at 11:49 am

I have joined into this quixstar because of my close friend and I am telling you as a real member it really sucks and you wont even get a single cent out of it, except ur loss of time and money and fkin begging other people and troubling them and no peace of mind and rest. You should always beg other people and request them to join and its a lot of headache beleive me, it does not work out, if any of your friends or relatives is forcing you, DO NOT JOIN INTO ANY OF THEIR PRODUCTS AND TRAPS, its nothing but a piece of shit. TRUST ME, it sucks and do not get into that trap, its not worth it, you wont even get ur money back. I have experienced it. IT SUCKS LIKE HELL, its like a piece of rotten dog shit. Did you know the level of frustration now.

JASON Posted 7/20/2008 at 9:54 am

I think it's funny how almost all the bad comments writen about Amway are from people who have never been involved in Amway. I do agree that there are Amway business groups out there that consintrate on taking advatage of people. Thing is there are people like that who work at walmart but does that make walmart's bad? NO. It just means there are people in this world that only care about themselves. I am an Amway IBO I'm not in BWW though, Jerry and Sherry Meadows are my upline and they never told me I would make millions of dollars starting out. They said its a business and it takes hard work and dedication just like any other business. They've never lied to me or hidin anything from me I haven't made a huge amount of money yet but I am satisfied with what I do make and I know that If I don't make anymore money its my own fault. I'll leave you with this Quixtar and Amway Global are Partnered with some of the top corporations in the world and those corp. have a good reputaion and image to uphold so do you think that they would want to be involved with a co. that had a bad reputation? No, they wouldn't want anything to do with them. so if Amway is so bad why are these co. involved with them? You can listen to someones opinion or you can look at the facts thats your decision. I'm just glade that my success in life doen't depend on the opinion of the people on this site.

JASON Posted 7/20/2008 at 10:02 am

I forgot to leave my website above JSMITH186.QHEALTHZONE.COM check out a few of the products I also thought they were high at first til I tried them and noticed they were a lot better than what I was buying at the stores and they lasted longer. Prices do vary but if you go to Walmart are you always going to get the cheapest price? No.

Man Who Tried Posted 7/21/2008 at 3:36 pm

Amway/Quixtar is cultish. Everyone who works for them has the most glorious things to say about the company and its history. How many happy, successful employees can you find at other companies saying the exact same thing? The problem is that people who don't work for Amway/Quixtar has glowing things to say. Why? Men and women have been running businesses for thousands of years and you IBO's think that the Amway founders are geniuses who figured out something that no one else has? Everyone already figured it out, tried it, realized that they were selling people crap cosmetics and vitamins they don't need, felt guilty and quit. I did it and realized that I was lying to people about a product. Bill Britt has the greatest con of all, write a self help manual and sell it. If 50% of you IBO's tried to write one, 25% would complete one, 10% one sell some, but roughly 5% would make a profit. It doesn't cost Quixtar a dime to make you sell their products but if you study Economics, you'll realize that the amount of time you spend to sell stuff could be spent on a business model that works. You are working for them for free, then you make a small percentage on each product you sell. If you started your own company like that tomorrow, you wouldn't owe Quixtar a dime.

Wilson Posted 8/8/2008 at 11:11 am

I actually have just started my own business and I was out passing out promotional flyers for it when I wound up in conversation with this odd man (who was an IBO for bww/quixstar) who started aggressively asking me about what my dreams were, and I said to own my own business. And he was like "what kind" and I said basically what I am doing now. But apparently he really wasn't listening to me because beside saying I wanted to and do own my own business he kept trying to lecture me, sketchily alluding to his "rich" friends and how he worked for a company that was worth "8 billion dollars." This all seemed strange to me, as he said his name was a very American "Jack Hofman" but he spoke with a thick eastern european accent and wore a cheep watch. Additionally, he talked down to me because he perceived that I was young but I guess he could not perceive that I perceived that he was a crock and a jackass. Also, when talking about his "rich friend" he said "He is a man like you, he started his own business, well…not like you, you are colored" Yep he used the term "colored."

He then proceeded to briefly mention Quixstar in a "maybe youve heard of them, or maybe you haven't because they are above you" fashion. He then proceeded to hand me business card which said "A & J International" on the top but the web address started with "bww" and I noticed that neither of those things started with "q" as in quixstar. If you ever met this man while you are out and about, take my word, he is a crock and a jackass. Do not get get roped into this bww/quixstar jackassary

Patrick Posted 8/13/2008 at 8:57 am

What's interesting to me is that people are so skeptical of IBOs. They suggest that IBOs are dis-honest, and not good for there word.

However, as anyone who has actually built a networking business understands, its all of the prospects who are usually dishonest.

Its all you people who say, "yes lets meet for coffee," but never show up. Its all you people who agree to participate and then hide from your potential sponsors phone calls.

Spineless if you ask me.

Just have some guts, and say NO, I'm not interested.

But that's not what you do. Instead, you slip away and posts anonymous entries on a blog somewhere.

lou Posted 8/24/2008 at 10:53 pm

Those of you that do not know what multilevel marketing is, have filled your empty minds with it's a pyramid. Hope you finish what you start.But enjoy working 40 years to retire with 1/3 of your current salary which is not enough for you right now!Enjoy the rest of your lives and being so close minded and the unwillingness to work for your and your families future.

vasundhar Posted 8/26/2008 at 8:48 am

Absolutely same painful story. Except two Variables He and Me.

Thanks You saved my life and temptations, if ever I get any

Saranya Senguttuvan Posted 8/27/2008 at 9:49 pm

Brandon philips,

I had a tough time gathering some information on BWW as I was not very clear even after going through their website, which is when i found a link to your site. I should admit that the blog has both side views and I am immensely clear on what i want to do! Needless to say that I have been approached too by one of the IBO's. My answer to them is going to a clear NO.

Thanks.

Cheers, Saranya Senguttuvan

Stuart Lucks Posted 8/30/2008 at 3:45 pm

I ask you this: If pyramid schemes are illegal, how can this "pyramid scheme" be in business for more than 50 years? That's right, Amway started in the mid 1950's and now is the single largest retailer in the world, with 8 BILLION DOLLARS in sales!!! I say, if this is a pyrmaid scheme, where and how to I get in?

Those of you who are ignorant or too lazy to do anything but talk will quickly call it a pyramid scheme because you don't have the guts to do something for yourselves.

Here's a word of advice: keep complaining and believing that you can't win. Let the others like me get rich.

Amrit Siew Posted 10/11/2008 at 8:58 am

Hey guys, just putting myself out there one time, I am an IBO of Amway Global, not here to condemn you or your views or even convince you to join, lol. There is nothing wrong with your choice to go or not go along with this type of business. I just want to give you my perspective on the business and why i joined.

I joined like many other people cause someone referred me to the opportunity, I had a good job, great car but wasn't really happy where my life was, I wanted to own my life instead of depending on others. Got really sick a while after i joined the business and had to leave my job. Went through depression even nutured thoughts of suicide.

I have to say, luckily the team of people i joined with came around for me, helped my business when i was unable too, worked on my time when i was too sick to put in the work, and even provided me additional books from BWW that taught people about being successful, positive and self-motivated. I can honestly say without the motivation from my team, i wouldn't be here today.

The thing is that asking people to join is a part of the business yea, but there is so much more that people are not being exposed to, like the friendship, motivation and all round positivity.

Now i have my own businesses and still run Amyway on the side cause even though I may not be at the top level I gives me drive and confidence to do what i do on a daily basis.

Just something to point out, If Amway Global is a scam, why was its website Quixtar.com built by Bill Gates? or promoted by Asafa Powell and Tina Turner? even used as a marketing medium and partner by Barnes and Noble, Sony, Ciruit City, Ace Hardware, and dozens more.

To me if all these heavy hitters in their own industries are investing in this business,whats my small contribution?

Roy Blocher Posted 10/25/2008 at 5:50 am

There have been alot of inaccurate or partial truths here. I recommend that if you seek truth, accurately and fairly presented, go to:

http://www.firstclassmlm.com

There are a set of questions and answers there, independent of any specific company, that clearly present MLM, or Network marketing and will clear up the confusion.

Respectfully, Roy

Amrit Siew Posted 11/2/2008 at 12:50 pm

Hey Roy,

Thanks for the information, great site.

What i liked it the defined differences between a multi level marketing business and a pyramid and how to determine if an MLM is really a pyramid scheme.

"A pyramid is an illegal business that involves the exchange of money primarily for enrolling other people into the scheme, usually without any product or service being delivered. Sometimes there may be the appearance of a product, but it's only there to make the pyramid look like a real business. Few people outside of the pyramid desire the product.

If you enrolled me into your "business" and I paid $300 to join BUT THERE WAS NO VALUABLE PRODUCT EXCHANGED, it could be an illegal pyramid."

http://www.firstclassmlm.com/2007/12/07/pyramid-schemes-and-scams/

Amrit Siew

Simon Posted 12/5/2008 at 6:17 pm

I moved recently to this new home and one day a guy comes around our ground floor patio and poses questions like 'You guys just moved in?, Welcome to the community' , etc to my wife, and then later we met him again and spoke and exchanged cards. the calls me 10 mins after we met a pitches this 'Additional Income thing'. He comes over the next day and starts his full pitch .. BWW. It rang a bell when he mentioned Amway and I was ready to end the conversation right there. The whole pitch was so systematic, I thought I will see through the end. But kept contradicting him on almost all of his arguments, like Time is Money.. So if you say you dont have time, then you dont make money… BS… Anyway, he gets the signs and leaves, leaving some DVDs and stuff.. Comes back in a week for follow up and just the fact that the DVDs cases were not even opened gave him the message. So he says you can buy their products from them and eliminate standing in line at the supermarket… My answer, I just enjoy the in store shopping experience.. He gave a smile and that was his last smile to me…

Sebastian Posted 2/10/2009 at 2:23 pm

i had a friend of mine get involved wit BWW a few years ago. When the guy that brought him in (his sponsor i asume) introduced himself, i could already sense ulterior motives other than a simple greeting. I avoided it, but soon noticed a change in my friend. He started giving off the same vibe as his "partner". It's almost like they brainwash you!! you are basically "encouraged" to use and endorse their brand line or products. ridiculous!!!

Perky Posted 2/12/2009 at 1:20 pm

im doing well with amway because i took a positive risk. even if i would have learned nothing, i wouldn't have lost anything that night I went to my first meeting. And I'm glad i took that risk. I'll admit, i was put off by being approached, but you can't knock something until you take the steps to try it; not the half-ass way of "oh, let me see, but I really don't wanna do this, so i'm sure it'll fail. let me find an excuse for my skepticism." like that, it'll be over before it starts. I mean really, open up, do the research. every intelligible IBO is aware of the criticism and accusations the companies receive before getting involved; it's called doing your research first(which is what we implore skeptics to do), so what makes us join?? you should ask yourself that question very seriously…what would make people, particularly people who already earn a living, join a "big, bad, marketing scheme?"…we're regular people like you. we have goals and big dreams and are willing to do something about it. people that wanted to stray away from the cycles that have landed people no job, working until they die. cycles that have cost your mother and father their health and sanity, trying to make a living for a child who will do the same. we're not brainwashed like people want you to believe (lol, it's called TV folks!). but we made the decision to see it for ourselves, and that's what has separated us from you.

There are people in this business from all races and Creeds. there are people straight from India in the business, from Trinidad,from Japan, From Jamaica, England; the business is in 80 countries and it is reflected in the meetings. the demographics are always mixed. that alone says alot about the business (at least my meetings anyway). it shows that people from all corners of the world, from different religions, languages, backgrounds, schemata, values, political affiliations, sexual orientations, are all in the same business. That means people who were brought up in life from different corners of the world, using different lenses to see the world can all see the same thing; can see that this thing is moral, ethical, and above all, is working, and get involved, and in turn, be successful. People that are teachers, engineers, doctors, psychologists, college grads, college students,clerks, secretaries… i mean people from everywhere…conservative, liberal, non partisan….all in the SAME BUSINESS.That means something is working…and lemme tell you, that something IS working, whether you are bitter about your experience or not. that's the reality and you'll have to live with that ; regular people who were approached just as you were, are earning a considerable living off of something you didn't think to look twice at….shrugs I'd say look again. I think most of you lack confidence, and think you will be "brainwashed' (oooooh, there's that word again!) Remember, the key word was "look"…again. oh yea, and we are in almost every magazine now with that big "hi, my name is…Amway Global" banner. I think some people are doing something right. it starts with you, and the numbers don't lie. we're not taught to hawk people in the mall or knock on doors. some people do, and i'm really sorry for those who have had bad experiences. but i guarantee, if you give someone a chance to talk to you, someone who knows what they are doing, your perspective will change. it's so much more than "just selling products to people". you're not an odd-job salesman, you are an entrepreneur… oh yea, and at least try the products before you knock them. i mean come on…just because it's "new" it doesn't mean it's "evil". lol. humans are sadly predictable. "oh no, not something new…no stop!!…" come one guys…

There are doctors who are aggressive and cold, and some that are warm and caring, don't you think people in the business will vary as well? o.k., there is a "familiar pitch" that is given when you are approached, but do you become skeptical when asked "Welcome to McDonalds" 6,000,000,000 times in your life? lol, get real people.

I'm having such a good time as an IBO. like i said, it's much much more than just "selling people stuff". the process of making the money is fun in itself; the meetings, the camaraderie, it's so fun..there are so many things involved that you can't imagine. your experience really depends on your psychology. I sit and read the comments made by people who are so damn bitter…and for what? why are you so mad? lmao. breeeeathe a little… you're not wrong for not wanting to join us (didn't you hear that in college from the greeks?), but don't criticize our world if you have no idea how it works. just respectably say, "it didn't appeal to me when it was presented". And that's fine, not every IBO is as sharp as we'd like them to be…that's called…umm…life.

Those of you who aren't sure about it, talk to your local IBO. come talk to us, come see what we are REALLY about. and if you're serious about bucking the trend, come join us. Be a game changer, not a spectator. wink

adam Posted 3/6/2009 at 9:51 am

I use to be in Britt World Wide (BWW) for years. I was totally brainwashed. I went to every event and had tons of tapes, etc. I use to be "downline" to Dean Wood and Andrew Malcome. These guys were amazing con-men. They truely made you believe you were part of something bigger than life itself. My advice to anyone talk to someone in the "business" is that don't try to talk them out of it. it was a waste of time. Let them figure it out on their own. People tried to talk me out and I honestly thought they were losers trying to "steel my dreams".

Terry Posted 3/12/2009 at 11:12 am

I truly don't see it as 'brainwashing'. They introduce you to positive thinking, and creating a better life for yourself and doing it other than a regular work to your death 9-5 job.

Jeanette Diesel Posted 3/27/2009 at 7:17 pm

Its very sad that a few people that do things the wrong way can make a bad name for everyone. I myself am an IBO for Amyway Global but I am not a part of bww and I myself have heard some negative about them. Amway is not a pyramid, If that were the case then you could never be above the person who signed you up.And to be honest most jobs are without you even realizing. If your boss makes money if you do work guess what thats a pyramid!Instead my sponser made $800 for me making $3000 so call that what you want but its an up and down line.Amway is partnered with Disney, Barnes and Noble Dicks sporting goods, so unless you know something they dont you should get the facts. This biz now.com see what they say about Amway. I have made a lot of money in the 4 months I have been a part of and if it doesnt work I have myself to blame noone else,you get out of life what you put in, if you want to work for other people thats great too.The FTC uses Amway global as the STANDARD to govern other companies that want to operate in the same manor

Maria Pivarnikova Posted 4/5/2009 at 10:26 am

Iam looking sponzor Birmingham

Parminder Singh Posted 6/2/2009 at 10:44 pm

Almost all are correct as per what they have seen, heard and experienced.

Many people are half-learned and make prejudices. Half a knowledge is sometimes a very dangerous thing.

I am an IT Manager and in my circle, three guys have retired from their job when they are in their early 20's. That made me think that I can also do it and am on the way to make it big.

I would make these folks silent. You may mail me in period of 24 months from today at parmindersinghaziz@gmail.com. I shall let you guys know what this business has done for me. I am very positive on this after seeing what I am getting after just a couple of months.

May God bless you all!

Parminder Singh

Parminder Singh Posted 6/2/2009 at 10:57 pm

I had myself prejudged about amway the same that many of my friends have said here. I also thought this is whole rubbish. I now think that I have lost some six years.

I started using the nutrition supplements of their partner Nutrilite marketed by Amway and I have myself got positive results in my own family.

Business was initially not in my mind when I started using health products but as a couple of months ago, I thought it was no harm initiating the business. I am doing it part time and would suggest those who want financial freedom in a few years to initiate.

Jameel S Posted 6/23/2009 at 1:17 am

I truly understand that, if a companies has exponential growth increase and that company stands in the world for more than 50 years, and has listed at 44th rank in FORBES 400 is not cheat, is it?.

System like McDonald has started the concept of network marketing is not cheat, is it?

Amway has followed up the concept and taken it a step further to provide opportunity to more people is not cheat? is it?

If anybody has any doubt please use below provided link for more information, http://en.wikipedia.org/wiki/Amway

You guys are smart enough to understand now.
---